Products & Services
STEEL REINFORCING BARS [Top]
In the design of structures, reinforcing bars embedded in concrete augment the composite structure to better withstand tensile loads and bending / shearing stress.
These concrete rebars are also known as "deformed bars" (as opposed to plain round bars) due to surface protrusions in the form of radial lugs and axial fins, better known as "deformations". These deformations in the rebar surface ensure a good bond and prevent slippage between steel and concrete, assuming that concreting work was properly done.
See Our Product Guide for more information. To order, please see our Orders page.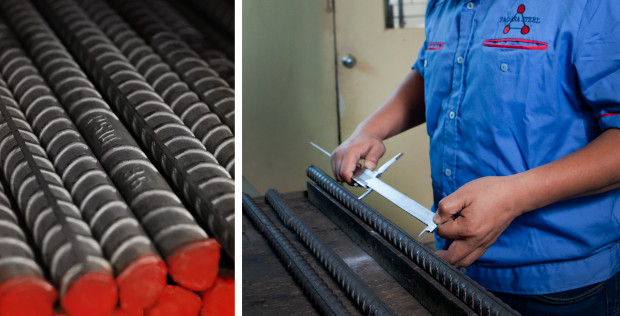 OUR STEEL REBARS [Top]
Pag-asa Steel produces superior quality concrete reinforcing steel bars or "rebars" in standard sizes and lengths in Grades 230, 280, 420, 520 and 550, as specified in the Philippine National Standard PNS 49:2020 and in accordance with the ASTM International Standard ASTM A615/A706.
Higher grades and plain round bars may also be available upon request.

CUSTOMIZED CUT AND BEND SERVICES [Top]
We provide convenience and cost savings by precutting and bending rebars into customized shapes to meet construction requirements.

MECHANICAL COUPLERS [Top]
We help clients save on materials at the jobsite by offering mechanical couplers to connect rebars.

OUR LABORATORY TESTING SERVICES [Top]
Our Quality Assurance testing laboratory is an ISO 17025:2017-accredited laboratory by the Philippine Accreditation Bureau (PAB) and the Department of Public Works and Highways (DPWH).
Our QA laboratory offers physical, mechanical, and chemical testing services for steel products using well-maintained Shimadzu and Spectro optical emission spectrometers & Shimadzu 200 Ton Universal Testing Machines.
It is capable of providing the following tests and analysis:
Complete Physical Test

Deformation
Variation in Mass



Mechanical Test (via the Universal Testing Machine and Bending Machine)

Tension Test
Compression Test
Bend Test



Chemical Analyses (via the Optical Emission Spectrometer)

Low alloy steel
Low to medium carbon steel
Our Quality Assurance laboratory rigorously tests raw materials and finished products before these products reach our customers. To document these test results and showcase adherence of our products to Philippine National Standards, we produce a Mill Certificate that accompanies each delivery of steel bars from Pag-asa Steel to its clients. This test certificate signifies Pag-asa Steel's commitment to quality and ensures that only products with correct specifications are delivered to the customer.
Aside from conducting laboratory tests to certify product quality for our customers, we offer lab testing services for other manufacturers upon request. These requests are subject to management approval and availability of equipment, and must be scheduled in advance with our QA lab. Please contact quality@pagasasteel.com to inquire more about these testing services.